Login form
Password recovery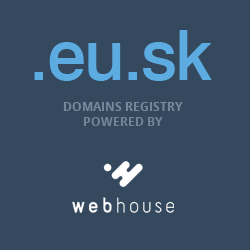 Contact

Language

Fees

Terms & Conditions

Create a new account

Check domain availability
www.
.eu.sk

Domains list

Copyright &copy 2022
.EU.SK Domains Registry
WebHouse
All Rights Reserved.
Welcome to .EU.SK Domains Registry
What do we offer

Register a domain with .eu.sk extension as unique alternative to the domains .sk, those name space is very full already. Registration process and domain management are fully automatic, driven electronically only and you need no paper documents. Please read Terms and Conditions of registration. You can find the prices for registration and other fees in price list.


Who can be a domain owner

The registration of .eu.sk domain names is allowed to any holder, private person, company, organization, regardless of domicile, established on the principle of first come - first served, while you register the domain in a good faith, or you have a legitimate interest in the domain name. Of course, as the holder of the domain name you must not violate the rights of trademark owners, ignore rules of registration of .eu.sk domains, or attempt to cybersquatting just because you registered the domain first.